Alternative tourism as opposed to traditional tourism (lake, sea) offers more opportunities for recreation and entertainment for the young people of North Macedonia, primarily because of the great natural treasures it represents. There are several types of Alternative Tourism, but the most well-known ones are Eco-Tourism, Rural Tourism, Mountain Tourism, Cycling, Mountaineering, Paragliding, Herbal Tourism, and Speleological Tourism. North Macedonia abounds in natural beauties and rarities, as well as in a rich historical and cultural past, the reason for which many call it the "Pearl of the Balkans". There are many regions with the possibility for the development of ecotourism such as the national parks of Galicica, Mavrovo, Pelister, and various localities characterized by a rich history as well as beautiful nature rich in biodiversity and beautiful sightings such as caves, waterfalls, and more.
In an interview with Radio Free Europe, the president of the Association for Alternative Tourism Vlado Srbinovski said that- "North Macedonia has the potential for the development of alternative tourism". This type of tourist travels several times during the year and is interested to explore and visit more destinations. This target group is economically stronger. It has greater economic potential and spends more time traveling to different destinations. According to Srbinovski,- "We need to use them and orient ourselves towards creating content and touristic offers in accordance with the potentials we have. We have extraordinary cultural, historical, and archeological treasures and extraordinary natural attractions. The combination of these two things as a touristic offer gives results every time and tourists can't be dissatisfied".
Srbinovski suggests that the government should invest in the development of alternative tourism, as well as in attracting tourists, but also in employing young people in this field. The approach of all previous institutions and authorities was not aimed toward the development of alternative tourism, the reason for which neither the central nor the local government have created the right condition for it to prosper. If that would have happened people would have found their pathways to get involved in the tourist offer. But of course, lacking a strategy for alternative tourism and the absence of certain facilitations such as subsidies for encouraging investments or reduction of taxes, etc, prevents its development or people's initiative. This type of tourism can be vital for the development of small, family businesses and lead to more self-employment for people living in rural areas, which in turn could contribute to less migration or emigration. On the other hand, people would start to see ways of supporting themselves and their finances by working on their own rural lands and developing their own small communities by employing other people or encouraging the establishment of other businesses that support tourism, such as accommodation.
During these last years, there is a project on Alternative Tourism that is being implemented in four municipalities of southwestern North Macedonia and in the region of Korça in Albania. The aim of the project is to encourage young people and their families to move or remain in their rural areas and initiate ideas regarding alternative tourism. Since then there is an increased interest of young people from the rural regions of Ohrid, Struga, Debarca, and Vevcani in North Macedonia and from the district of Korça and Pogradec in Albania to invest in this domain This project is funded by the Macedonian Enterprise Development Foundation (MEDF) and partners from Albania.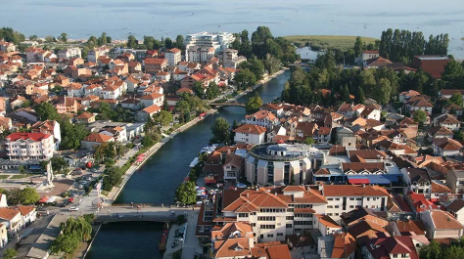 Photo credits: Struga https://albbnb.com/location/north-macedonia/struga/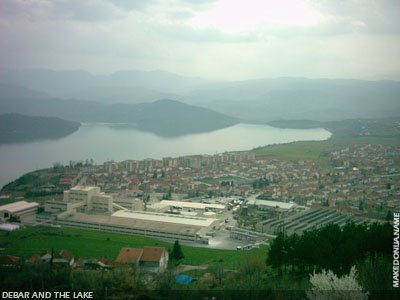 Photo credits: Debar lake https://makedonija.name/cities/debar
The project supports the economic renewal of jobs, job creation, and human resources development in the domain of alternative tourism. The general goal of the project is to offer diversified economic development based on the opportunities for tourism in the above-mentioned areas as well as to increase cross-border cooperation between the municipalities involved.
The main activities covered by this project are mountaineering, cycling, paragliding, and fishing, where young people are encouraged to participate either as tourists or hosts.
And because projects are in the process and interest in Alternative Tourism is growing, we are showing you some information on the best places and activities to enjoy if you choose to travel and savor the diversity of Alternative Tourism.
The Korça region is the best option for alternative tourism in Albania. If you are passionate about history, culture, and nature, this is the place where you can find it all. Commonly known as the "Little Paris", Korça attracts thousands of local, regional, and international tourists. The streets of this historic city are paved with cobblestones, and all of them lead to the central piazza, in the middle of which stands gracefully the orthodox Cathedral. Built of frescoes and domes, the cathedral is not only a symbol of local culture but also an attraction for tourists. If you come here you can't leave without eating the traditional Korça pie made with tomatoes and onions. Korça Bazaar, unique for cobbled streets is part of the Albanian heritage. If you choose to visit Albania, you shouldn't miss visiting this magnificent city.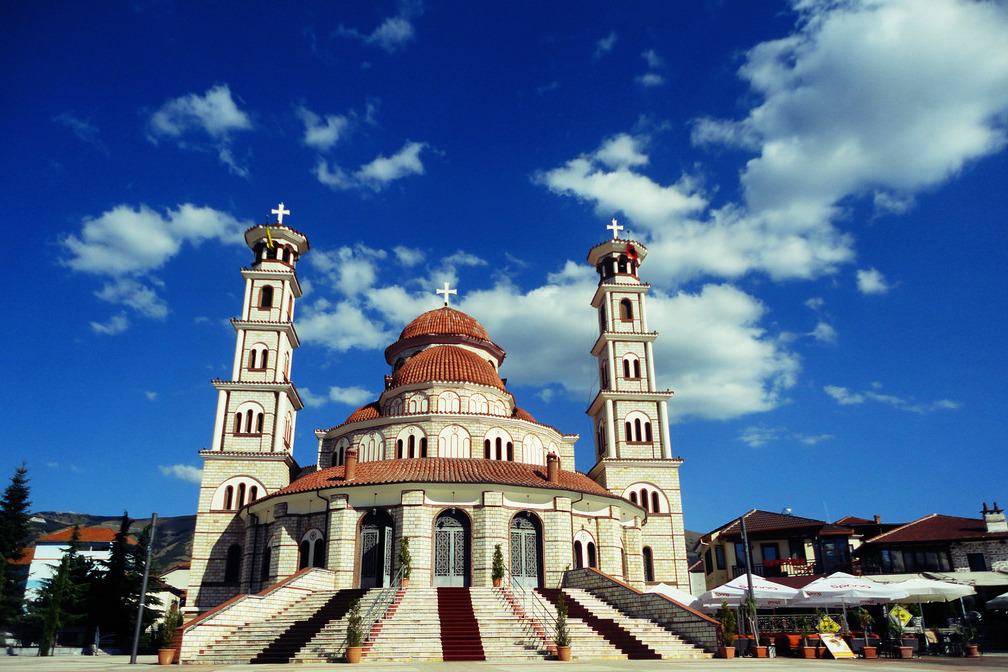 Photo credits: The Resurrection Cathedral https://albanianvoices.tumblr.com/post/143710374241/katedralja-ringjallja-e-krishtitkorce-albania
If you love crazy adventures, you can't leave Albania without visiting Skrapar and its canyons for the most fun and dynamic rafting at the torrential river of Osum. Other sports exercised there are kayaking and canoeing, which are possible almost in all rivers in Albania, there are only Osum and Vjosa rivers that offer the most amazing, adventurous rafting. Rafting will provide magnificent scenery as you float by the Canyon walls and will certainly make for a memorable experience. Eight waterfalls, a cathedral, the unspoiled nature, and the soothing sounds of running water combine to create a truly unique trip. In recent years the number of tourists visiting the Osum Canyons has increased greatly. The trip to the Canyon takes about 2 hours and 30 minutes from the capital and is one of those unforgettable experiences not to be missed. Osum' Canyons is one of the most spectacular natural attractions of Albania. The edges of the canyon have an unusual ecosystem that preserves the greenery on both sides of the gorge all year-round. On the slopes of the canyon, erosion has created pockmarked cavern walls with small caves. Some of the rock formations in the gorge have fanciful names such as the Cathedral, the Eye, and the Demon's Door. The canyon is 26 km (16 miles) long, at an altitude of 450 m, and has been formed 2-3 million years ago by water erosion.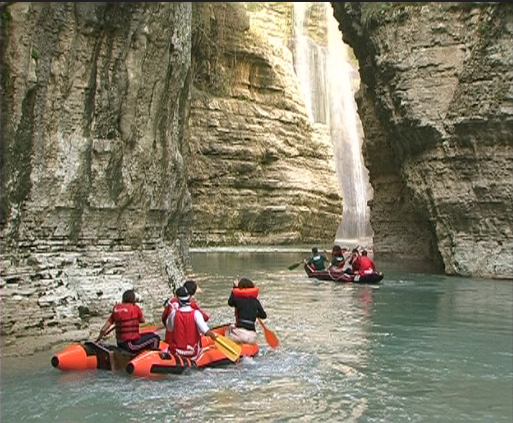 Photo credits: Osumi's Canyon https://www.flickr.com/photos/20928798@N03/3064803375/in/photostream/
In Albania and North Macedonia, Alternative Tourism has started to develop and can turn into a key potential for the economy of both places. North Macedonia is a place full of culture, history, and tradition but we can single out, among others, Lake Mavrovo, an artificial lake in the northwestern part of the country located at 1,200 m above sea level. The lake is surrounded by high deciduous and coniferous forests, which are reflected in the clear lake water, offering a special beauty and appearance. There are many places from where one can have an incredible view of Mavrovo Lake.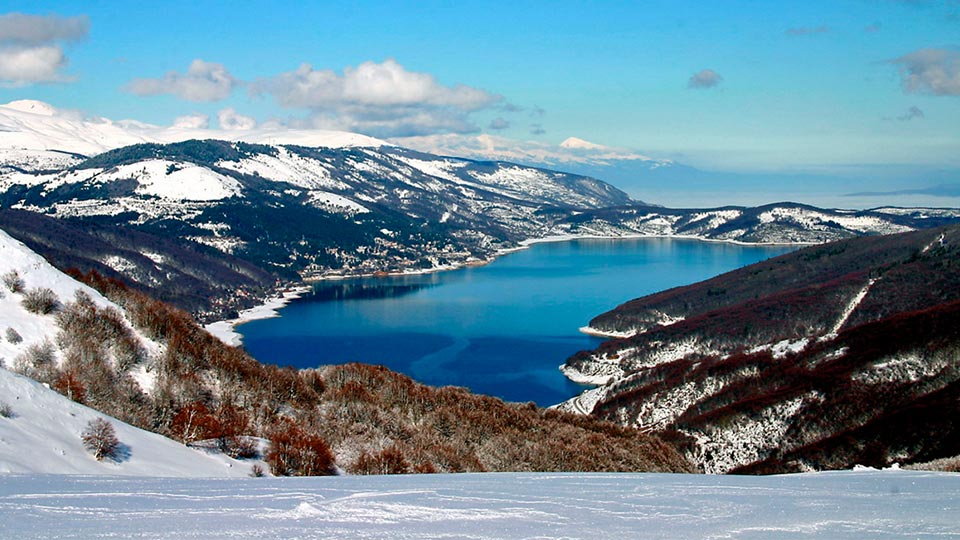 Photo credits: Mavrovo lake, North Macedonia
https://www.trekearth.com/gallery/Europe/Macedonia_FYR/West/Gostivar/mavrovo/photo307510.htm
One of the most impressive things that will leave you breathless is the church submerged in the lake. Only a small part of the roof and the bell tower stand out from the lake. This church is one of the most spectacular sights in this region, worth seeing. The church named after Saint Nikola" was built in 1850 and was in excellent condition for 103 years. Another thing you can do around the area of the lake is hiking in the mountains nearby, like Crn Kamen, Krstovi, Leunovo, Nikiforovo, which are recommended for larger groups of hikers. The place is surrounded by beautiful nature which allows visitors to organize picnics.
Photo credits: Abandoned Church of St. Nicholas https://www.pinterest.com/pin/273241902363145172/?autologin=true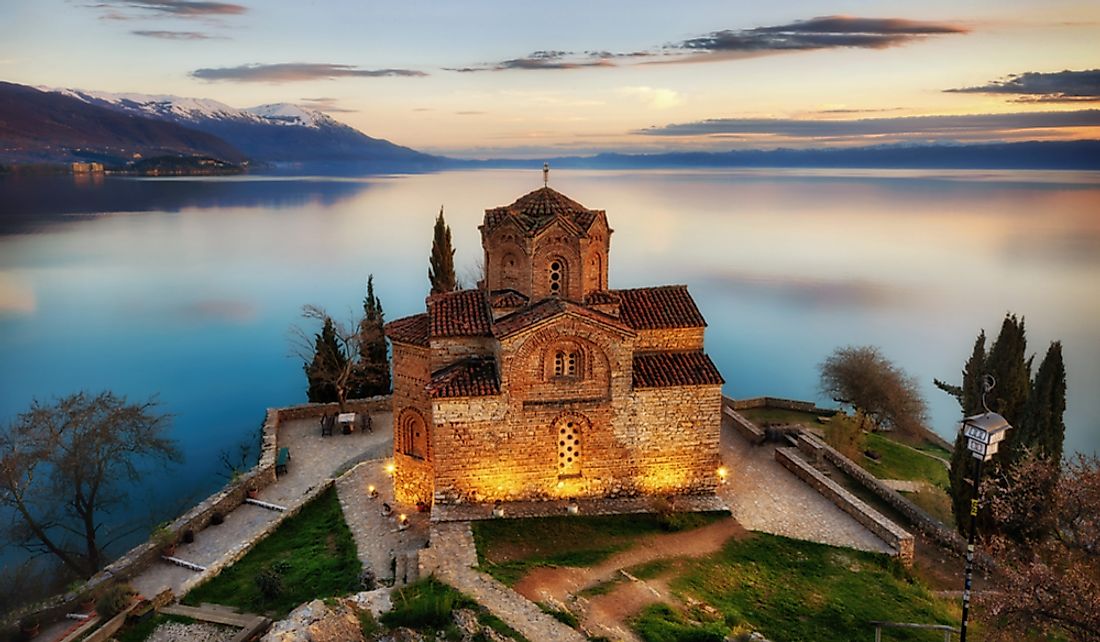 Photo credits: The Church of St. John the Theologian overlooking Lake Ohrid in Ohrid, Macedonia https://www.worldatlas.com/articles/which-countries-share-lake-ohrid.html
---