A first, … in a while: Can you hear that sound? Is it coming from the stadium? Yeah! It'd been a while!
With a new stadium at our disposal and a Sanremo winner, Albania reopened its doors to event season, and so on started the preparations for Tirana, Capital of Youth 2022.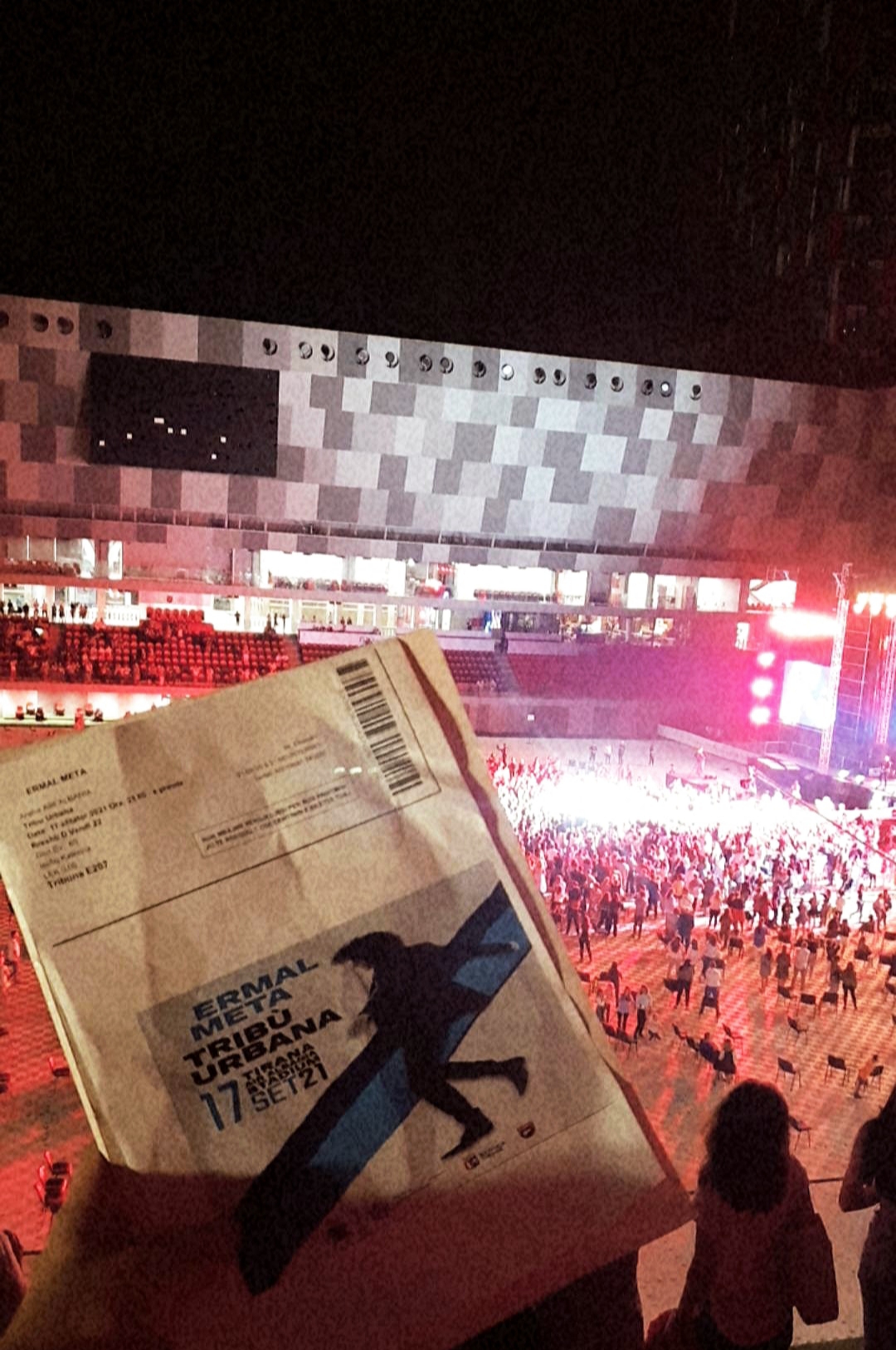 In 2020/2021, a lot happened within the doors of our rooms and TVs, but much was missing outside. If I have a look back, I remember a lot of events being canceled. First was the Maluma concert that was canceled at the beginning of this wheel of postponements. And after that we had a dull year regarding festivals; no summer festival, no winter festival and even not an end of the year concert like the old ones. But then 2021 came and I had hope. The hope of going to a concert, screaming and dancing, and getting a sore throat afterward, but not much luck in this year either, though the light was becoming clearer in the distance.
The municipality of Tirana started the year talking about Tirana, the Youth Capital of 2022 and that the preparations had started. I was looking forward to seeing what was about to happen. And with the warm season coming and COVID cases going down some festivals started. Unum fest, and then South Outdoor Fest, and then the cherry on top, in the capital at our brand new stadium, Air Albania Stadium, Ermal Meta, an Albanian-Italian singer, representative of Italy in Eurovision 2018, held the first concert of his tour, free, for everyone to watch and enjoy.
I was, as a fan of concerts and his, the first in line to book the ticket and then start looking forward to September 17th.
--- --- ---
That day I woke up and along with my sisters started the day with his latest album Tribù urbana so we could make sure to know the words of every song and sing along. This part of getting ready was filled with music so that even when I went to my radio internship that afternoon, the main topic was the concert, Ermal Meta, and of course the stadium.
After a very informative internship day on Ermal Meta and his career, I took off to the stadium that was 5 minutes away from the radio. My heart was beating fast and I kept calling my sister and best friend asking where they were. When we arrived at the gate – which I must say, we had a bit of trouble finding as I got confused with my directions – I could not wait for the sun to go fully down and the lights to be turned on.
--- --- ---
Entering I could not stop staring at everything around the stadium. I wanted to take everything in and on our way to the seats I took the moment to appreciate everything and let all my companions know that: "On 2022, this place we are now entering and seeing, will host the 2022 UEFA Europa Conference League Final, and we will find tickets as soon as they are on sale.".
The stadium was huge. I had visited the bars around it many times. And I had had a walk around, many times during summer but never actually realized how big it was until I entered and saw it inside. I was amazed by the 110 x 68 m field - now filled with distanced chairs for people to seat and a main stage at the far east side – and the 22,500 seats – that were slowly getting occupied.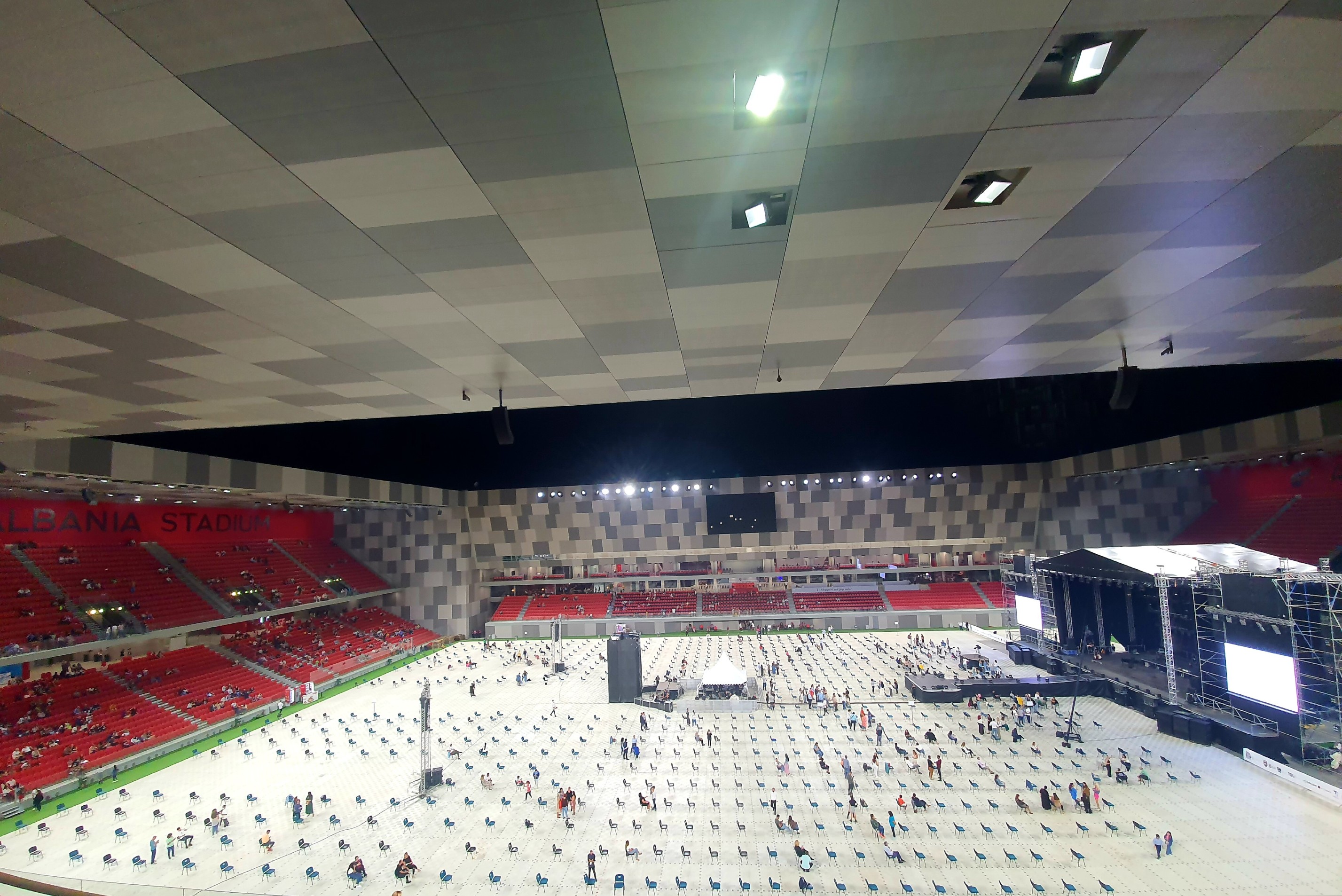 Everything inside was red and white and the opening music was beginning to control the crowd who were dancing, and singing already while some others were trying to find their seats and having small chats.
--- --- ---
When we got to our seats my sister and me, were chatting when we heard a sweet familiar voice saying her hellos and then starting to sing a sweet melody we knew all too well. Turning to the stage I saw Elhaida Dani, Voice of Italy Winner, Eurovision Representative for Albania, and one of our best vocals. Coming as a pleasant surprise Elhaida opened the show with her colleague and friend, and warmed us up with her hit "S'je më" among others, to have everyone focus on the stage and enjoy the main show. Saying her goodbyes, we got a few more minutes of quiet and the sun was now beginning to set. At 20:15 the lights went down and the stage was lit up. I got up trying to have a closer look and I did not know who I was telling but I kept saying: "Shhhh. It`s starting. It`s starting.". After 15 minutes, at around 20:30 the star of the night entered the stage.
Something I find very particular about Ermal is that he always hosts his Albanian concerts in Albanian. And another funny detail is that he apologizes for his "broken" Albanian all the time. But, as an Albanian, born and raised here, who also is fluent in Italian, I would like to add that his Albanian is way better than most of us who live in Albania. He has a pure and sweet language with a slight Italian accent that really gives the words a melodic sound.
The stadium was a bit empty due to the COVID-19 restrictions in place but that did not stop the air from getting filled with the heavy sound of musical notes – some on track and others (aka mine) completely out of tune - and the ground from shaking due to the bass, drum and the heavy dancing that was taking place in the middle of Tirana on that warm night.
At around the middle of the concert. He started singing one of his hit songs, Piccola Anima, the song is a beautiful ballad in a duet with Italian singer-songwriter Elisa. My mum during the whole show had just sat and enjoyed the songs rocking left and right and humming along with the songs and she was doing the same in this song too, except the moment Ermal held a small girl on stage and sang with her. At that moment she got up and looked at her baby sister and told us: "You should have booked better seats so he could take my girl up on stage. She would have even sung along.". Though it was a very touching moment going up on stage we all ended up laughing and even a few ladies next to us who had somehow joined our small group of singing along and making little –so-called funny – comments once in a while.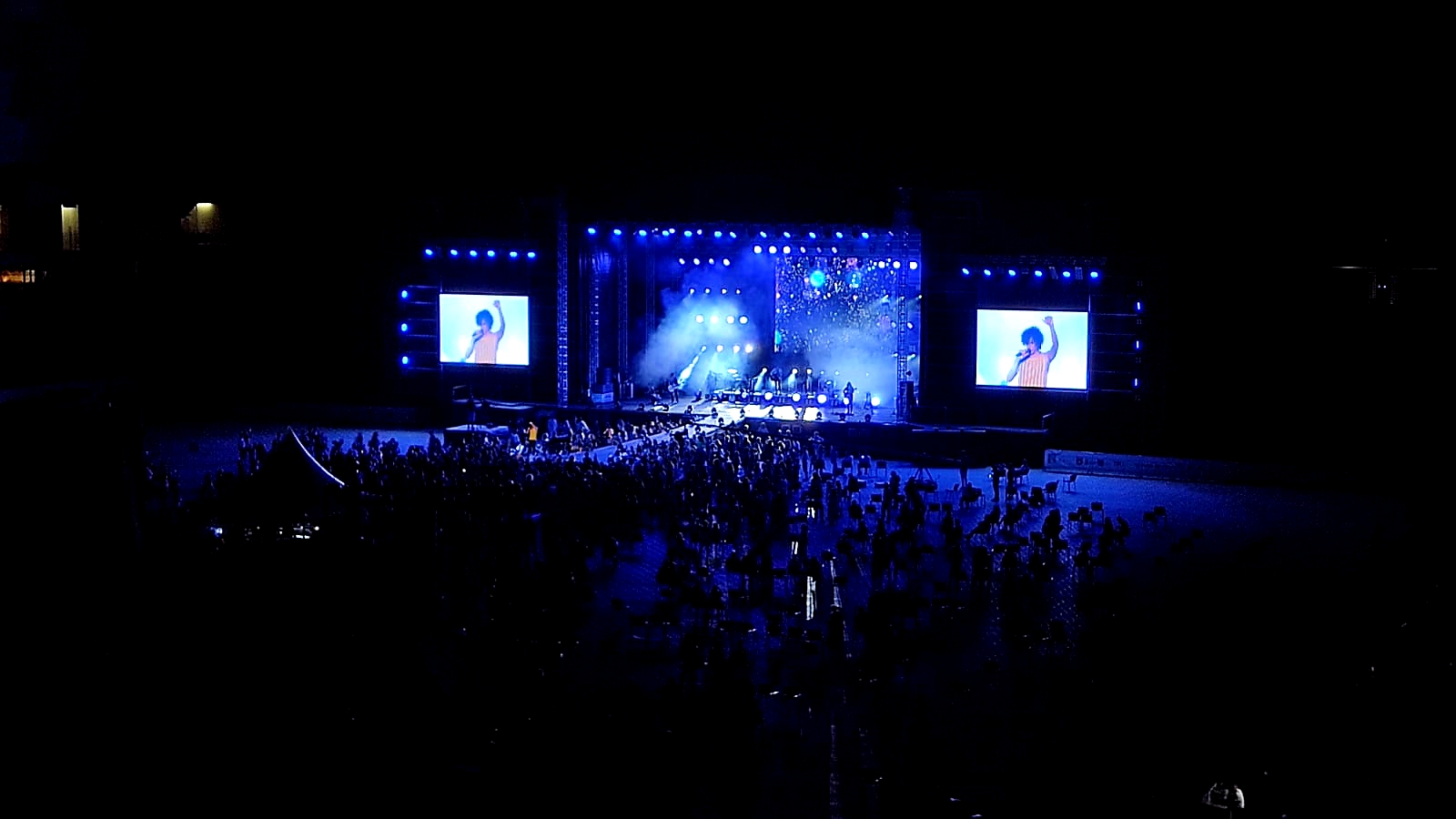 At around 21:30, as I was just beginning to sweat and my adrenaline was too high up for me to stay seated, Ermal left the stage. I got a scare. But he had just changed and turned back with a national football team shirt that wrote META 10 on the back. The stage turned red and black. Somehow we all knew what was going to happen and we fell dead silent.
"I'll sing a song that is very important to me. It is a song that represents me. It is one of the strongest music memories for me."
And he began singing Jon, by Ardit Gjebrea. Jon is the winner of Festivali I RTSH (Albanian Radio and Television Festival) which has a deep and strong connection to every Albanian. Speaking of the emigrants that left their land for a better future, the song represents a part of each family history and that is why everybody was left teary-eyed.
Filled with singing, applause and lots of screaming this performance marked the highlight of the concert. This also marked the fall of my poor voice that had lost the battle after reaching the peak of its high notes, but all this did not end the fun. The show must go on, and so it did.
For 2 hours, Ermal was dancing and singing and going from left to right of the stage untired and full of energy. He left the stage and ran around with the fans and the guards at his back. He saluted everyone, got flowers, and gave encouraging words and melodies. Sang to his motherland, did not forget his Italian fans that were among the crowd, and never forgot to thank everyone for the love he was receiving. With humbleness and a smile on his face, at 10 to 10 pm he introduced his last song.
"A lot of times I have felt like a ghost, invisible, but I breathed in and in the end, I made it through."
The concert ended with the song Gli invisibili that the singer wrote at a time he felt like what he had just explained and he gave himself with the melody, just like he did to the crowd listening. The song was perfect to end my night. It did not leave you bittersweet, just with the memories of a great night that passed but with the promise of many more that were to come, and the excitement that, like in the lyrics, to be the invisible that will save the world (siamo gli invisibli che salvereno il mondo). The song ended and so we thought of the night too. My baby sister did not want to leave but my mum wanted so to avoid the exit mess as she called it, and as always my sister won – also I was 90% sure that there would be an encore, there had to be. We honored the band with their solo plays and well-deserved applause and then Ermal left the stage showered in whistles and applauses to only come back for the ENCORE. Well… it was my, and my sister's chance, to say "WE KNEW IT" so we did say it and gave a back pad for not leaving.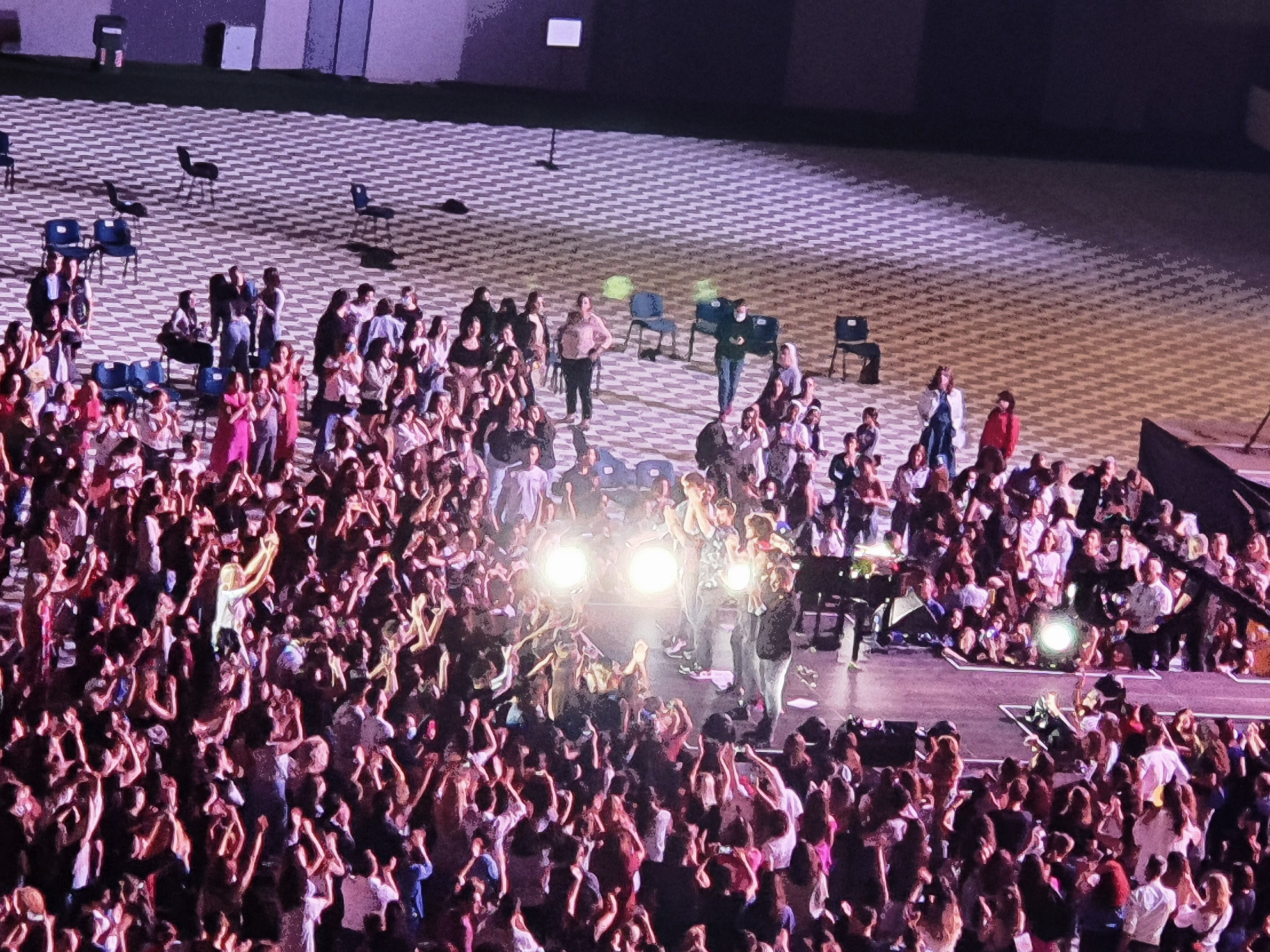 The encore was dedicated to his grandmother that had raised and taught him so much and surely my eyes got watery and I did not want the night to end. The cover of Caruso (original by Lucio Dalla) got me, in the beginning, sitting with my mum and talking about the great concert and then, at the edge of the seat section with my baby sister, translating the song word by word.
"Ju dua shumë"/"I love you a lot"
With that and the music dying down, we said our goodbyes and left an unspoken promise to meet again soon.
--- --- ---
Leaving the stadium, there was no time to see or understand the way out. You just walked and were in a state of drunk by the night and music. The blood was still rushing in me. My mind was racing with what had happened, trying to not forget, and relive everything. I was listening to others' conversations on my way out and just when I exited the stadium I understood I had just lost my family. I was possessed by my thoughts and emotions I forgot to hold my sister's hand in the mess so we would not get separated.
While waiting for them at the entrance after a quick phone call, I was looking at the sky and thinking how much I missed this all. The loud music. My sore throat and aching feet. Sweat now cold on my back. Messy hair and flushed cheeks. Not feeling the chilly night as the blood was still rushing and the adrenaline had not cooled down. Everything made me want to go home and tell everyone about what I experienced. While another part thought leaving would mean it is over and who knows when we would feel all this again.
--- --- ---
Not much time has passed, but writing about this story still brings back all the memories. My mind and body remember and we miss feeling it. With Omicron and corona as a whole still around not much similar happened after that but I do hope the new year comes with a smile and hope for all the planned activities to happen and refill life with the joy they bring. Let us hope we do not have a "first…in a while again" but just "another… great one".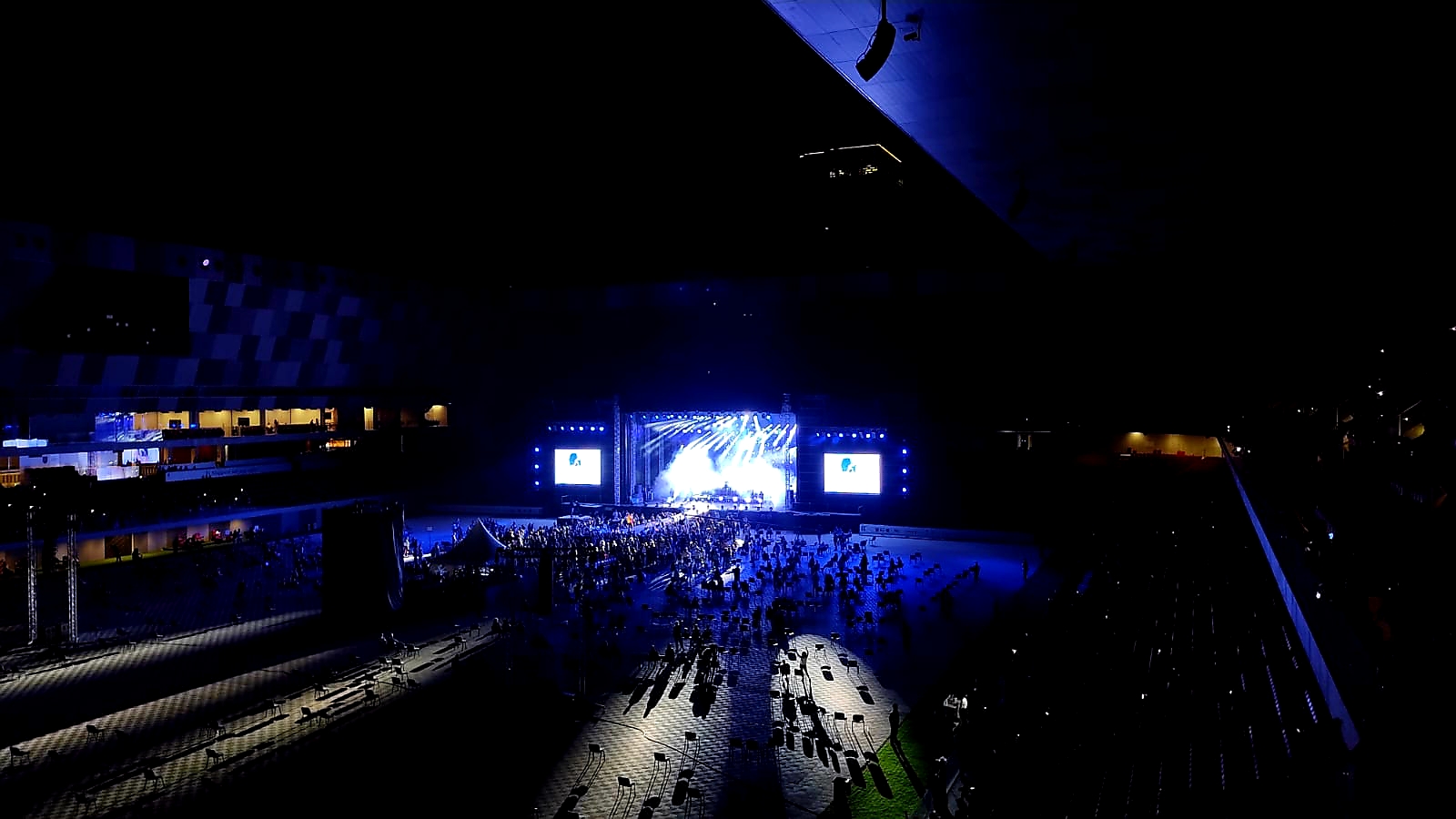 ---