Kosovo* and North Macedonia are two small communities located next to each other in Southeastern Europe. As two small communities, people in Kosovo and North Macedonia have differences, but nonetheless, they like sport, especially football, which is the most popular sport in the respective communities. Over the years, football in Kosovo has been facing a lot of different challenges. Only some to be mentioned: lack of sponsors, poor infrastructure, no guaranteed future for the footballers, and a lot of other obstacles, which have hindered the proper development of Kosovo's football development. Talents that were in Kosovo had very few opportunities to enter the international arena because it didn't withdraw the interest of scouts. And over time, for reasons like this, a lot of great talents just 'burnt down'.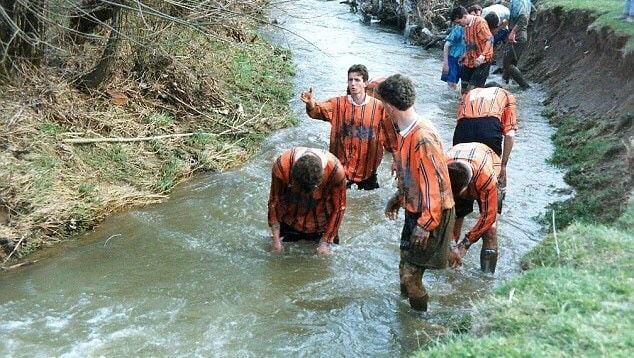 Photo credits: Telegrafi
For players in North Macedonia, it was easier to get a contract abroad. All of their famous players used to play with European clubs throughout their careers. Fortunately, over time things changed for the good: In 2016, Kosovo was accepted both in UEFA (3rd of May, 2016) and FIFA (13th of May, 2016). These two days were the happiest in Kosovo's football history so far. For comparison: North Macedonia was already accepted in UEFA and FIFA in 1994.
The Kosovan League was founded back in 1945 and in the first period known as the "Kosovan Province League". It was closed by Serbian authorities in 1990 or 1991. Later, in 1991 it was re-founded with the name "Independent League of Kosovo". Meanwhile, the North Macedonian league was founded in 1992, and earlier, the North Macedonia team competed in Yugoslav leagues. Its first season was 1992/93. The most decorated teams in Kosovo and North Macedonia are Prishtina (KOS) 11 titles and Vardar (NOM) with 11 titles as well. A club that represented Kosovo in UEFA competitions was Trepça. North Macedonia's football clubs have participated in European football competitions since 1961. Before 1992 North Macedonia was a part of Yugoslavia. Therefore, Macedonian teams represented this community and did not always have a guaranteed spot in European competitions. The first match played: Dunfermline Athletic 5–0 Vardar (1961–62 Cup Winners' Cup R1). The most famous players from Kosovo are Vokrri, Lushta, Naim Kryeziu, Kozniku, and nowadays stars: Rashica, Muriqi, Rrahmani, Zeneli, Besart Berisha, etc. Big names with Kosovar origin that have achieved great successes are Shaqiri (three-time winner ChL), Xhaka, Behrami. North Macedonia: Blagoja Vidinic (FC Sion, Los Angelos Toros), Metodija Spasovski (FC Saarbrucken), Darko Pancev (Inter), Ilija Najdoski (Real Valladollid), Goran Pandev (Genoa), Enis Bardhi (Levante), Arijan Ademi (Dinamo Zagreb), Ezgjan Alioski (Leeds). Most famous stadiums in North Macedonia are: "Toše Proeski Arena" - 36,400 seats, "Stadion Goce Delčev" - 15,000 seats, "Ecolog Arena" - 15,000 seats. In Kosovo: "Fadil Vokrri Stadium" - 13,500 seats, "Gjilan City Stadium" - 10,000 seats and "Përparim Thaçi Stadium" - 10,000 seats.
Photo credits: Arton Krasniqi - "Fadil Vokkri" Stadium


The most famous derby in North Macedonia is Eternal Derby - The fixture between Vardar and FK Pelister is the biggest and most violent match in North Macedonia. Every season, the Superleague of Kosovo manufactures a very special derby, which takes place in the city of Gjilan, between Drita and Gjilani. A small city in the eastern part of Kosovo, which on the matchday of derby, divides into 2 parts: 'the reds' and 'the blues'. But, the beauty of this derby is that despite the huge rivalry in the pitch and the stands, every time after the match, they congratulate each other, without inciting hatred or anything like that.
Photo credits: Visar Beqiri
_________________
*This designation is without prejudice to positions on status and is in line with UNSCR 1244 and the ICJ Opinion on the Kosovo Declaration of Independence.
---