When talking about women in sports, we cannot help but mention misogyny. A perfect example of that is an information that women don't earn early equally as men in same sport. Although they are guided by the same desires and hopes - to become successful athletes – women will never have the same predispositions to achieve their dreams as men do.
Misogyny has made a home for itself in all societies, and that went on for centuries. Many studies on the phenomenon of self-fulfilling prophecy confirm that if you set expectations about a person's behaviour, that person may change their behaviour over time in accordance with those expectations. That is one if the main problems that girls face, especially in an unsupportive, traditionalistic and misogynistic environment such as Balkan.
Girls often think that they are not good enough for something, because society has convinced them of that, which can lead to a loss of motivation to play sports in general.
Another factor that stands in the way of their success is the lack of invenstment from the country. A great example of that is Bosnia and Herzegovina's best swimmer – Lana Pudar. At the age of 15 she is the national record holder in all six butterfly events, the youngest swimmer at 2020 Summer Olympics, won the golden medal in the 100m butterfly at the European Junior Championships in 2021 and won the bronze medal in the 200m butterfly at the 2021 FINA World Swimming Campionship in Abu Dhabi. Imagine what this girl could achieve if she lived in a city that actually has an olympic pool.
Although it can be found in every parts of world, misogyny shows its ugliest face in more conservative societies. If you were shocked by the information coming to us from the world, ask yourself - what is happening in the Balkans? Several brave girls from the region managed to keep fighting to make a name for themselves in the world of sports, and keep the motivation that inspires them to continue.
Women have participated in international sports competitions since other modern 1900 Olympic Games. But the number of women competing was far less than that of men. Of the 1,066 athletes who participated, only 12 were women. Only in 2012, the number of women who participated was equal to the number of male competitors, reports the Institute for Women's Sports.
PLACE OF BIRTH AS A SUCCESS FACTOR
Even though one's success is dependant on their talent level, there are also other factors that can present challenges on the way to success. Two big ones are finances and opportunities. In this case, opportunities mean sports halls, proffesional training staff, funding for tournaments and equipment, country invensments in sports, etc. When it comes to Bosnia and Herzegovina, talent is usually the only factor that leads sportswomen. As mentioned at the beggining of this article, a great example of that is Mostar – a city that does not have a sports hall or an olympic swimming pool but still gave the world of sport people like Lana Pudar.
"I love swimming and winning an Olympic medal. That is the dream of every athlete. I also want Mostar to get an Olympic pool", says Lana for bljesak.info.
"Lana and I spent 170 days preparing, which is almost 6 months that Lana spent outside of school and that is not a small thing for a 15-year-old girl. Did we have to spend that much? We did not, but we do not have a swimming pool in Mostar and that is the main condition of all conditions for continuing this story", complained Lana's trainer Alena Ćemalović.
When talking about when could Mostar possibly get a pool, Damir Đedović, the president of Water sports club Orka Mostar said:
"There is a specific location for the pool. We have unofficial information that a construction site could be found in the federal government budget. I have a feeling whenever Lana makes a result the story intensifies. Lana makes them think about it with the results. I don't see any serious intention to go for it. They are trying to start something, and if the world medal does not start it, I don't know what will."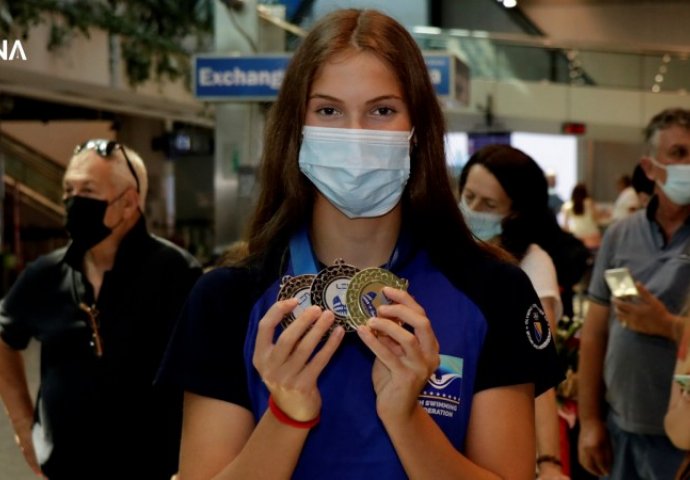 Foto: FENA / Lana Pudar at the Sarajevo Airport
Balkan karate champion under 50kg and the city of Mostar's 2020 sportperson of the year, Iris Ćorić, also shared her disappointment with the treatment of women in sport and the lack of funding for sports in general in Balkan.
"The situation is much different in bigger countries. Women get financial support from their cities or countries just for representing their country in tournaments. We (sportswomen in Bosnia and Herzegovina) do not get anything."
Iris also stated that no matter how good one's results are or how hard they try, when it comes to Balkan you are nothing without a very good sponsor.
"It is sad that you give so much of yourself to one sport and barely get anything in return", she concluded.
WOMEN VS MALE STRENGTH
Nikolina Mihajlović from Serbia, trains basketball in the Basketball Club "Proleter 023" from Zrenjanin. She says that her career started in 2009, when she played basketball with boys a little older than her, in her hometown.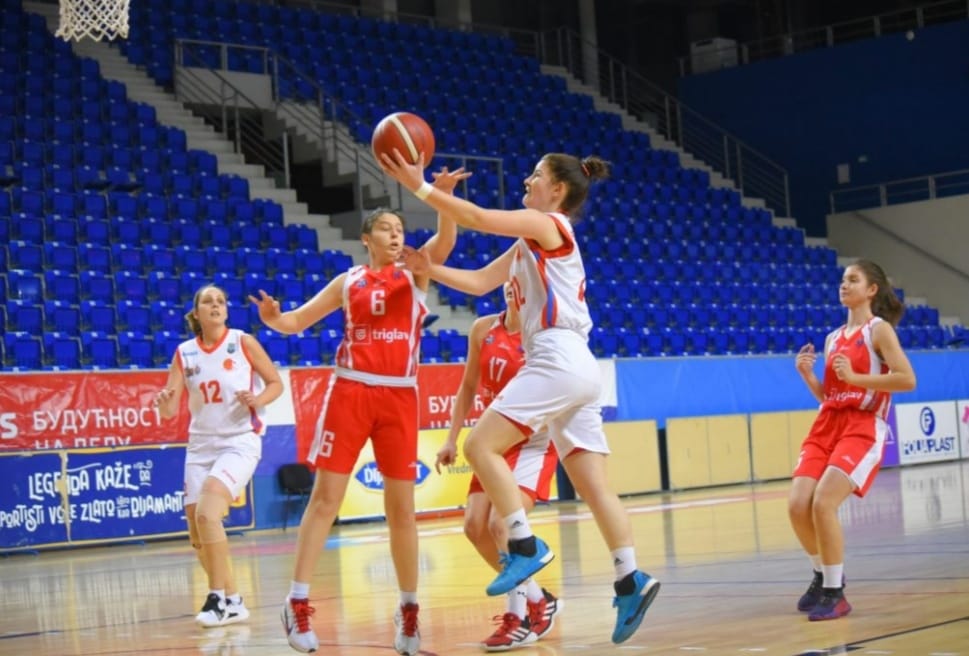 Photo Nina Mihajlovic 1/ photo credit – Nikolina Mihajlovic's personal arhive/Description: Nikolina Mihajlovic on basketball match
"Observing the situation in Serbia, it can be said that men are given a greater chance and opportunity in most sports. Their matches or competitions are much more attended than women's, they are much more written and heard about, they are paid much more. They have a lot of advantages, and why this is so is a very difficult question for women", says Nikolina
Female strength reaches 55-65% of male strength. It means that women cannot run as long as men, nor can they lift the same weight with the same ease, and so on. Basketball player Nikolina Mihajlović points out that coaches are mostly aware that men have more strength and greater explosiveness, due to their genetic configuration. At the same time, women are often much more emotional than men. However, this often does not prevent coaches from having equal treatment for men and women, and from adapting their vocabulary, which remains part of the male world.
"If I look only at my experience, I must emphasize that I had only male coaches and that in all those related to vocabulary were very decent or within normal limits, although I know from stories that some do not save and do not make a difference whether they train men or women, "says Nikolina.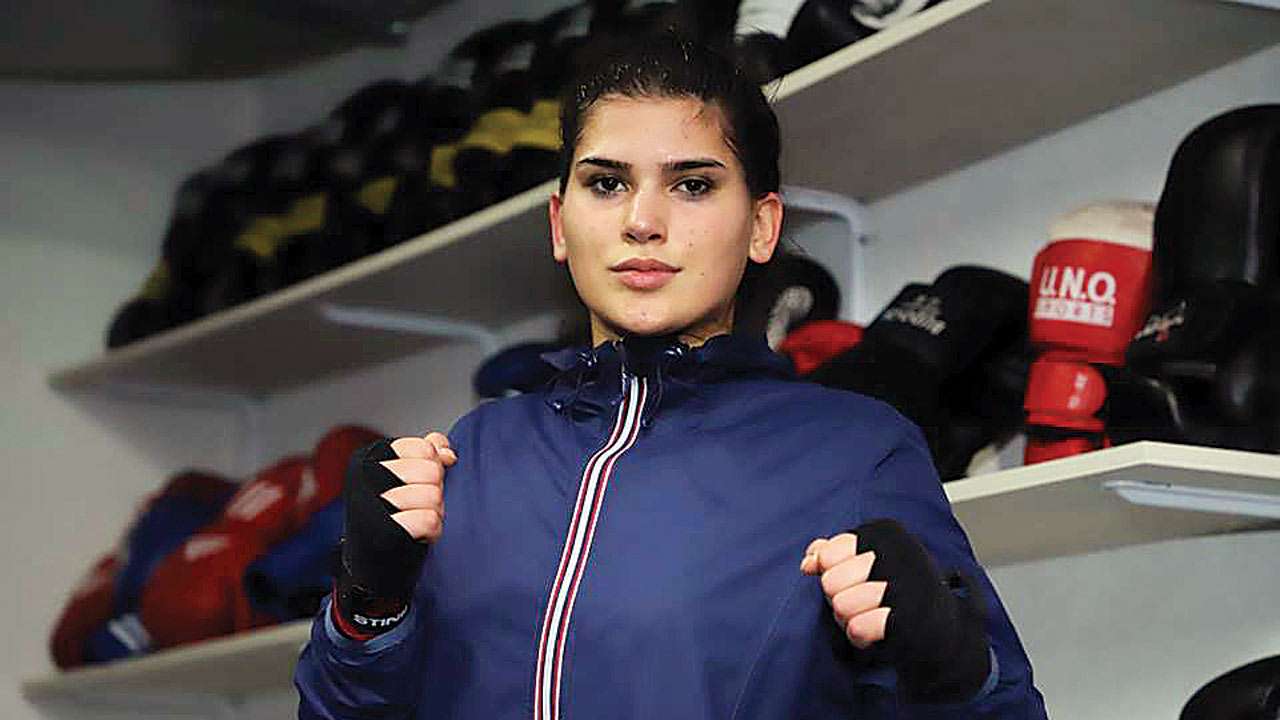 Donjeta-sadiku/Credits-DNA India/ Twenty-two-year-old Donjeta Sadiku is competing in the women's lightweight category
The difference in physical strength did not prevent Donjeta Sadiku from Kosovo* from becoming a successful boxer. She competed for Kosovo* at 2020 Summer Olympics and has previously competed at the 2019 European games.
"Like I have said before, I will never stop trying, I'll never stop winning until I fulfill my dream", she posted on her twitter account.
MEDIA FOR WOMEN
When asked what would give women more motivation to play sports and what Serbia could do to provide them with better conditions, basketball player Nikolina Mihajlović pointed out that the media are an important factor.
"I think that just media writting about women's sports and results in our country, or broadcasting women's sports on small screens, would raise people's awareness that we women can be just as good as men," says basketball player Nikolina.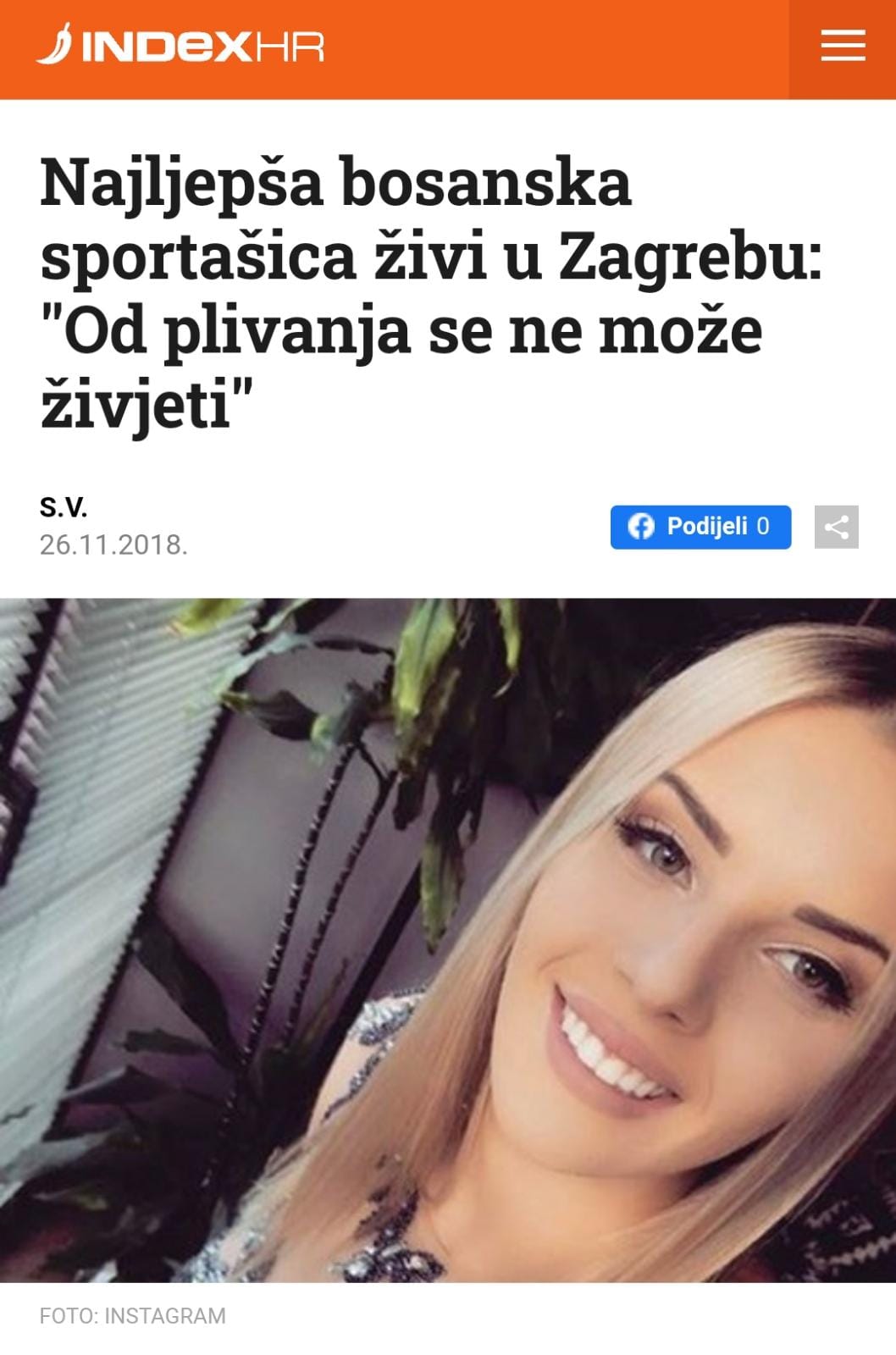 Media 1/Photo credits-Maria Ema Mijan

Modern media built its foundation on public's online responses to their work. Respones usually mean clicks and reactions, and, as unfortunate as that is, certain media workers are replacing quality content with content that will get the most responses. In today's society the content that gets responses often has hints of sex and sexism, misogynistic titles and scandal. Men and women are treated completely different in media, especially when it comes to sport. That is why we can find titles like "ONE SU SLIKAMA S PLAŽE ZAPALILE DRUŠTVENE MREŽE: Španovićka, Danilovićka, Tasićka su prave BOMBE, ali Dabovićka je IZDOMINIRALA" (They lit up social media with pictures from the beach, Španović, Danilović, Tasić are real bombs, but Dabović dominated), "Najljepša bosanska sportašica živi u Zagrebu: "Od plivanja se ne može živjeti"" (Bosnia's most beautiful sportswoman lives in Zagreb: You can't live from swimming"), Prezgodna crnogorska sportašica objavila hrpu vrućih fotografija (Hot Montenegrin sportswoman published a bunch of hot photographs) and similar ones that put the looks of sportswomen in focus, ignoring their talent.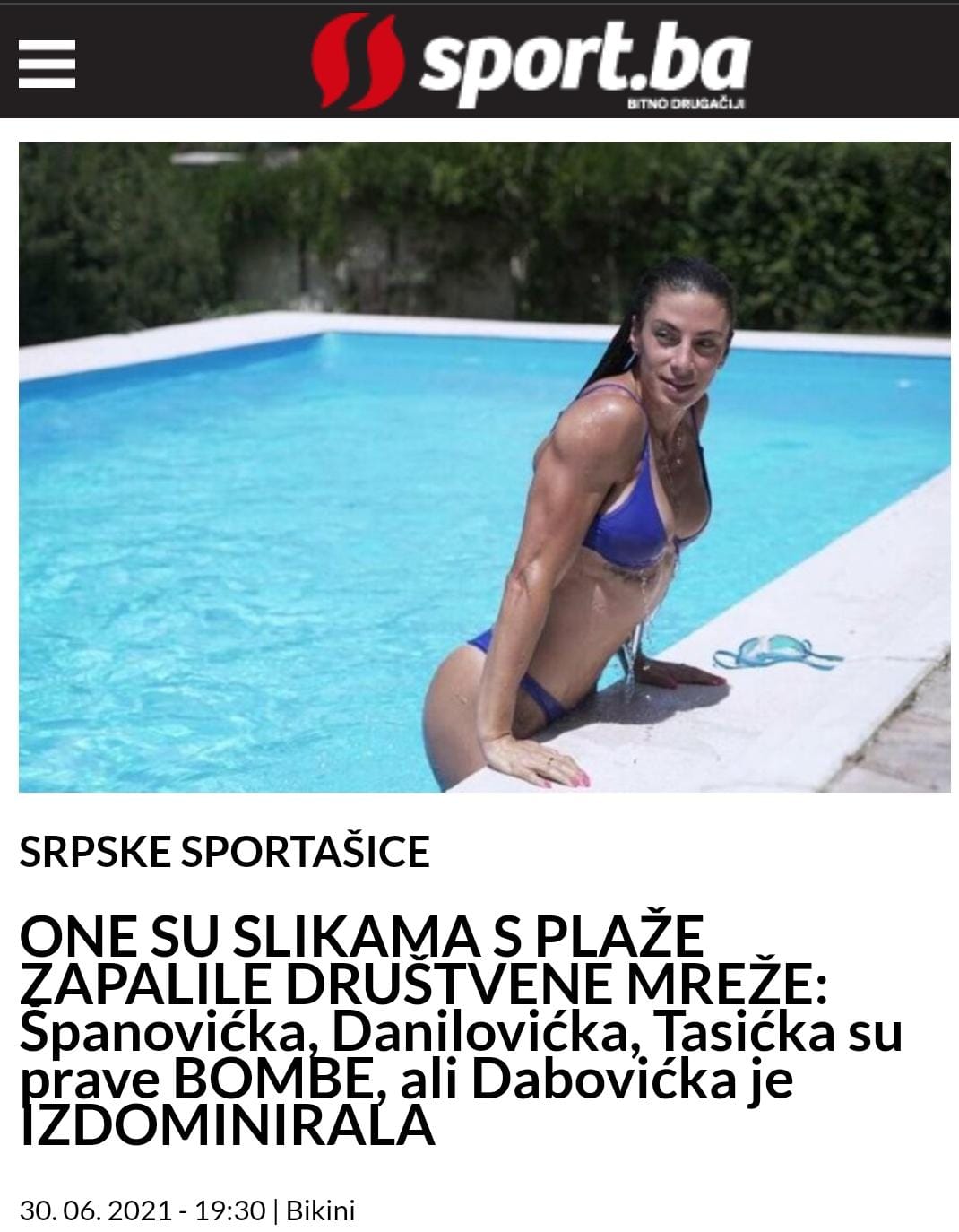 Media 2/Photo credits – Maria Ema Mijan
Media workers must, as the bare minimum, start giving sportswomen the same treatment that sportsmen get. There need to be more titles related to results and talent of sportswomen and less about what they wear or what kind of pictures they post in their free time. Women's competitions should also be broadcasted more and successful women should get more media coverage. As the new generation of media workers, we need to try our best to fullfil that.
BIG STARS CREATES SMALL ONES
Today, basketball player Nikolina Mihajlovic plays in the senior category, but while she was still a junior and played in the senior category at the same time, she managed to qualify for the First League of Serbia with her teammates. Despite being aware that there is a difference between the conditions in men's and women's sports, she has never compared herself to men and believes that the desire to progress and push the boundaries is the key to success.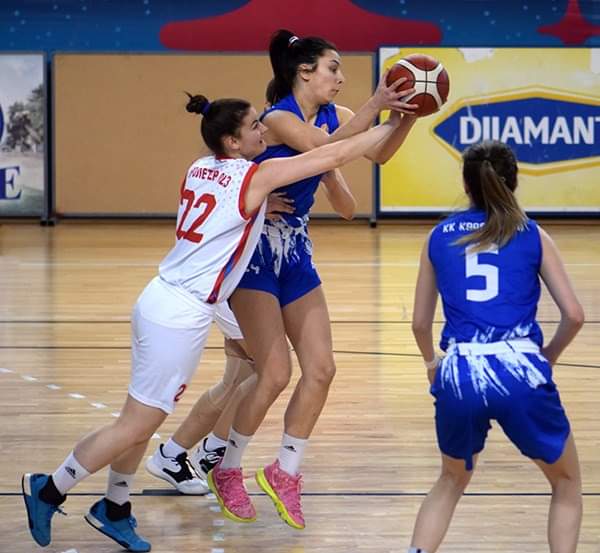 Photo Nina Mihajlovic 2/Credits – Nikolina Mihajlovic' personal arhive
"First of all, I think it is very important that in setting our own goals or challenges, we be aware of ourselves and our possibilities. If we are, then that is the first step to success. In this way, we will set ourselves goals that we can achieve, and then when we do, we will move them further and further but gradually, so that at no time will we be disappointed and lose our will. I was taught to enjoy sports and to see it as something beautiful and useful, although of course when I think about these things I feel sorry that we do not have the same treatment as men because first of all I think that all of us in sports try and give ourselves equally ", says basketball player Nikolina Mihajlović.
Volleyball player Saška Đurović from Montenegro has a similar impression.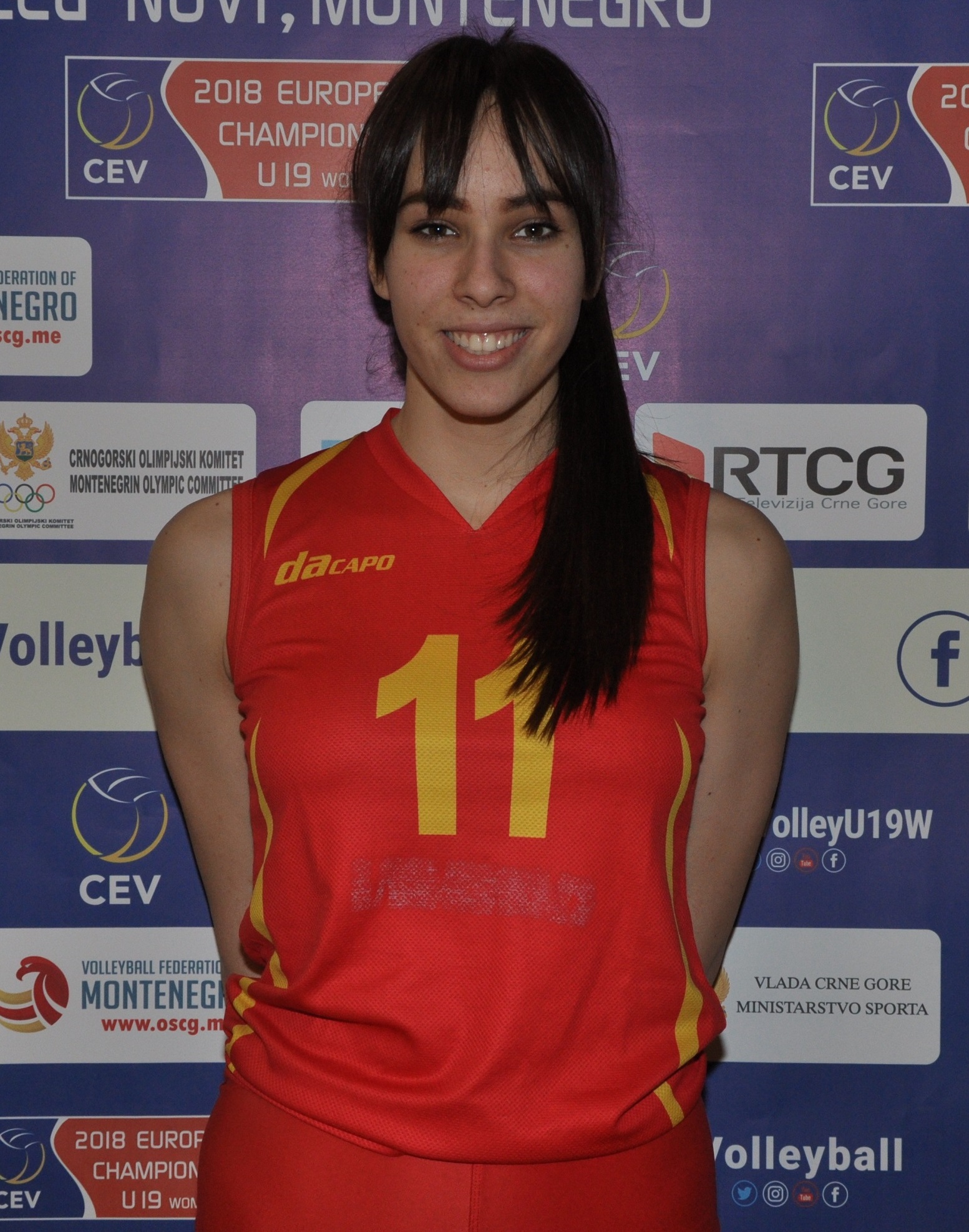 Saška-Đurović/Photo credits- Volleyball Federation of Montenegro/ Description:Saska Djuric, on the position of middle blocker in the National Team of Montenegro
"I have kept the greatest motivation since I was a child, when I watched sportswomen who are big stars today on small screens. That's when I got the wish that sometimes a girl would admire me and look at me as a role model, just like I did, "says Saška Đurović.
Saška Đurović plays volleyball and currently plays for the Volleyball Club TENT from Obrenovac, near Belgrade. She is coming from Montenegro and is one of the representatives of the national team there. At the age of less than 16, she moved to Serbia and there she created another family with girls from the team. As she says, apart from the language, the differences between Serbia and Montenegro are small, so she easily got used to the new environment.
"Since I started playing sports, I have faced many challenges. Perhaps the biggest of them in my career was the professional start itself, more precisely the departure from home. Today I can say that in that moment I made the best decision that changed my life. In the beginning it was difficult, to live alone, without parents, but some desire and the very thought of success was bigger than those obstacles ", says volleyball player Saška Đurović.
SYSTEMIC CHANGES A STEP TO EQUALITY
"As for women's sports in Montenegro, in the last year it has received more and more attention. Social networks have the biggest influence on this. This year, the first and only portal in Montenegro, SPORTFEMCG, dedicated to the promotion of our sports heroines, was opened", says volleyball player Saška Đurović.
Saska's colleague in volleyball, but miles away, Joana Tallamishi from Albania claims that volleyball is still not a sport that brings fame. The main reason why she started playing volleyball is because she knew many friends who practiced this sport. Even today, she believes that sport is good for developing social life and health. The only obstacle is the training conditions, due to which someone has to play sports since childhood if wants to succeed.
"In order to give more opportunities to women, Albania should firstly create more gyms with better conditions. More women teams should be created and more money should be invested in women's sports, because money is also a very good motivation. Sport in Albania is not highly valued, especially for female players. I think better conditions and higher pay should be given to motivate female athletes", pointed out Joana Tallamishi, volleyball player from Albania.


So, no matter where young women live – conditions are staying the same. Balkan countries should invest a lot more in sports, especially when it comes to women. Even thought these countires are not the strongest financially, a good plan and fulfilling basic training necesities would be a good start. They should not let young talents go to waste or ruin the opportuinites of the sportswomen who already made the name for themselves.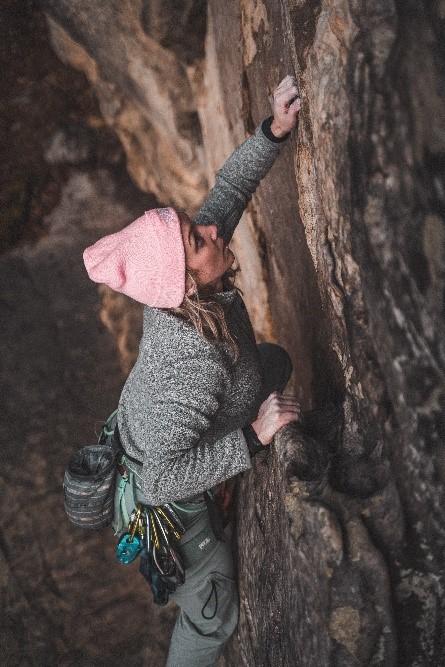 Credits-Pixaby.com/Cade Prior
WATCH:
https://m.youtube.com/channel/UC9KXrNFXOguElAImE79J5RA
Key words: Lana Pudar, Nikolina Mihajlovic, Donjeta Sadiku, Saska Djuric, Iris Coric, Joana Tallamishi, misogyny, woman in sports, unequality
Authors: Maria Ema Mijan, University of Mostar and Maja Milosevic, University of Belgrade
Mentors: Assistant professor Marko Nedeljković, Department of Journalism and Communication Studies, Faculty of Political Sciences - University of Belgrade and Senior Assistant, Department of Journalism and Public Relations – University of Mostar Maja Marić
---