In just four years, in North Macedonia, the number of women who have suffered various forms of domestic violence has doubled.
According to data from the Ministry of Labor and Social Policy, in the last four years, the number of women victims of domestic violence in North Macedonia has doubled. As stated in their analysis, the number of victims in 2018 was 919, which of 665 were women, while in 2021 their number grew to 1608, of which 119 were women. Many of them survived physical or mental violence. Similar data are available in the Ministry of Interior, whose reports show that most of the victims, about 40 percent, are wives, followed by parents and children.
There are shelter centers for victim protection and rehabilitation in the country in six regions, but healing and restoring women's self-esteem, according to experts, is more difficult, although they are worked on as long as they have the will.
The numbers have been alarming for years
"This year we record an increase in crimes committed during domestic violence by 6.5 percent, 1056 crimes in this area have been registered," said in the latest Annual Report of the Ministry of Interior of North Macedonia for 2021. It states that 90% of the perpetrators are male. The report concludes: "Most often victims of domestic violence are women - 77 percent, and in relation to the relationship with the perpetrators, in 38.5 percent as a victim of domestic violence is the wife. In 18% of the crimes, the victims are the parents and in 10.5% the victims are the children. "Most of the crimes, or 84 percent, were committed with the use of physical force or threats, followed by cold steel with 7.4 percent of the crimes, and in 11 cases firearms were used."
Victims of domestic violence
https://public.flourish.studio/visualisation/10391345/
Number of women victims in recent years
https://public.flourish.studio/visualisation/10391384/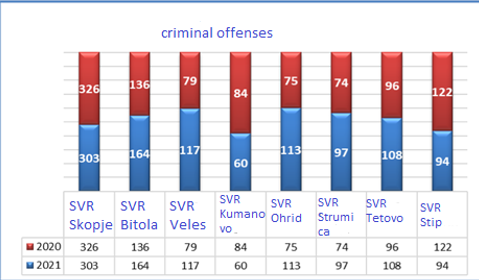 Crimes committed in 2020 and 2021. Source: Ministry of Interior
The data from the previous year, 2020, are similar. According to the Annual Report of the Ministry of Interior for that year, 992 crimes in the field of domestic violence were registered, in which almost 60% were found to have bodily injuries, and then cases of endangering safety were found. There were also four murders in Skopje, Bitola, and Veles. And then most of the victims were wives.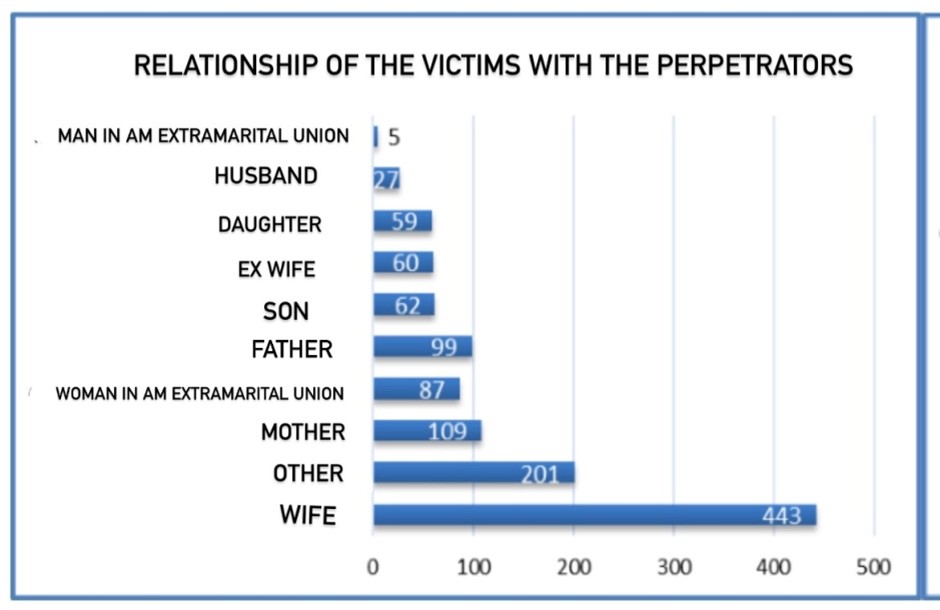 Profile of the perpetrators (Source: Ministry of Interior, 2020)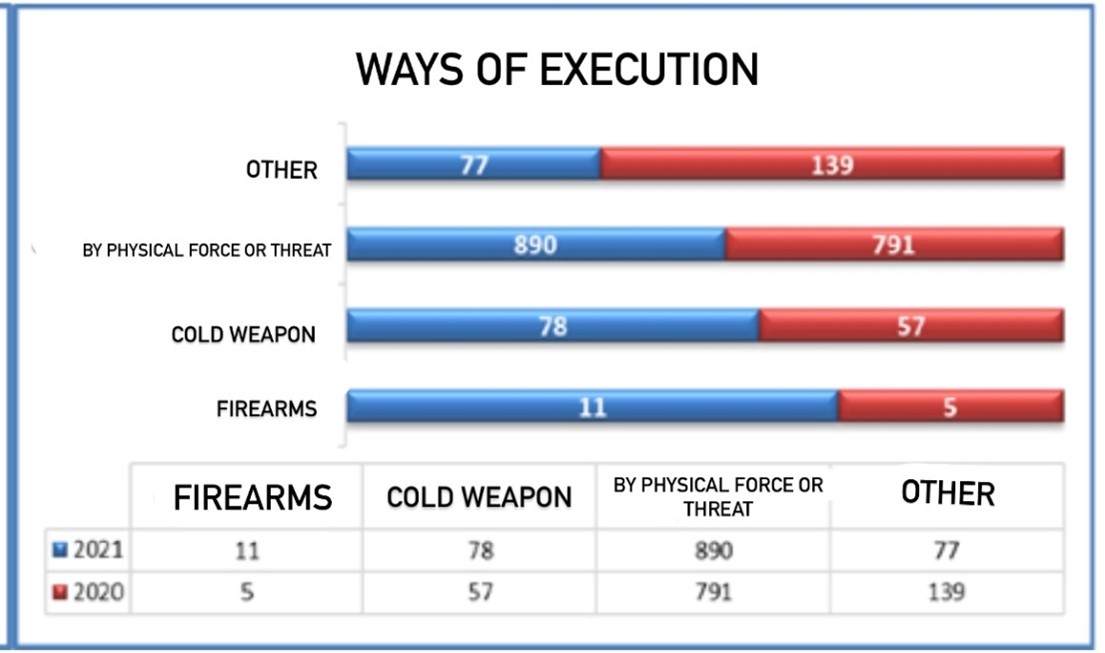 Statistics of the Ministry of Interior from 2021
According to the Annual Report of the Ministry of Interior for 2021, most of the causes of domestic violence are due to a state of disorder of the perpetrator, and in 16% they were under the influence of alcohol.
Type of criminal offense
https://public.flourish.studio/visualisation/10391686/
The testimonies hurt
"I had been suffering from psychological and economic violence for a long time," said one of the victims of domestic violence. "Last year it escalated with physical violence that occurred during quarantine. My ex-husband's father hit me in the temple area, after which I fell down on the floor and was unconscious for several minutes. My then-husband picked me up and trapped me on the bed in the bedroom. "He kept me locked up for about half an hour," she said. "Initially I was advised that I should go to the Center for Social Work, that I should take care of myself and the health insurance of my two children. They were there at all times for me to give me legal aid, psychological counseling, and whatever else I needed. They were available 24/7 for me. They helped me in four legal proceedings. Thanks to this support I felt more secure, I felt that I was not alone and that everything was possible. " - the victim shared.
Type of violence
https://public.flourish.studio/visualisation/10392266/
Healing and restoring self-confidence are key
In conditions when many women in the country, far from the eyes of others, suffer humiliation, insults, verbal, physical, and sexual assaults, they seek salvation in institutions and associations where they expect understanding and support in order to overcome the trauma.
Ana Avramoska Nushkova from the National Network against Violence against Women and Domestic Violence says that in North Macedonia there are shelter centers in 6 regions that are managed by the Ministry of Labor and Social Policy. They are distributed in Skopje, Ohrid, Bitola, Veles, Sveti Nikole, and Kocani, and recently two more crisis centers were opened in Prilep and Stip and another shelter center in Ohrid.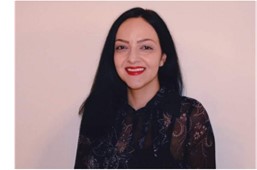 Ana Nushkova, National Network against
violence against women and domestic violence
(Photo: Academic)
"The placement of the victim in the shelter centers goes with her consent. For a victim to enter there, it is necessary to have a highly life-threatening condition. Accommodation in shelter centers is three months with the possibility of extension for another three plus three, but it must not be more than one year. "After leaving the shelter centers, the victim is given psychosocial counseling to overcome the trauma and then find solutions that will help and support her to rehabilitate in society," she said.
Psychologist Biljana Stojanovska has experience with victims of domestic violence.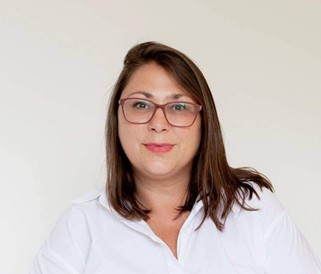 Biljana Stojanovska
"In my opinion, the situation of the victim of domestic violence is similar to the 'bird in a cage' phenomenon. Sometimes closed for too long, the bird is put in a situation where it does not come out when the door of the cage is opened. The fear of freedom that she has not experienced for a long time does not allow her to come out. Sometimes it is the perception of power that the victim thinks the perpetrator possesses. Or insecurity, low self-esteem, low self-esteem, fear of change, and many other fears and conditions, which appear in situations of domestic violence," said Stojanovska.
According to her, the only condition for complete healing of the victim is, first, removal from the environment where there is violence, and then involvement of both parties in appropriate psychosocial treatment, for victims, ie perpetrators. In both cases, Stojanovska believes, that regardless of whether the perpetrator will get involved and show readiness for change, the woman victim should work on strengthening self-support, by using all resources provided by state institutions and the NGO sector.
Authors: Simona Paskoska and Simona Petrovska
Photo by RODNAE Productions: https://www.pexels.com/photo/light-fashion-love-people-6670149/
---