Sarajevo keeps on rocking
VHS brings back punk, rock and hardcore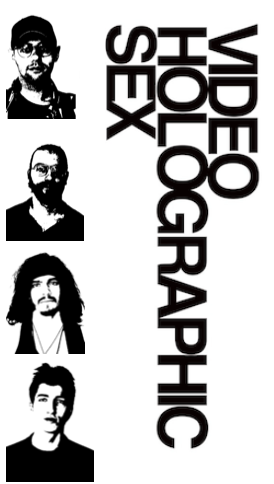 Who are they?
All of us have a certain goal, depending on what we want to do and where it is that we want to be. For some of us, that goal is set a bit more clearly when we see famous musicians and bands filling up stadiums and presenting new albums, seeing the crowd scream and cheer for them – it makes space for an idea, an inspiration that will create something new. That is exactly what happened between two friends, on the 9th of October 2018. A guitarist by the name Dženis and a drummer who goes by Bakir, struck their first chords together not even imagining what would become of it years later.
How did VHS come to be?
VHS can certainly be associated with tapes or cassettes. However, the drummer, who is also responsible for the band's brand, pointed out that even though for some the name VHS can mean just tapes or VCR, other things can also be represented by it. For him personally, that meaning is Video Holographic Sex. Here's what he said about it:
"The name VHS was first mentioned in our group chat on Instagram. For some odd reason, it reminded me of the fact that the new generations, especially with the mass consumption of social media, have the need to expose and post everything online. Sometimes it's for themselves but mostly for other people to see. Personal relationships, feelings… nowadays when everything is one click away we start to resemble a big meta-neighborhood where people are emotionally naked. Just like in a video holographic sex", says Bakir.
Back to the roots
From Syphilis to MA6, the band often changed its name. Sometimes it was because of new band members arriving, and sometimes just because they wanted to. The name Syphilis, as odd as it may sound, came to mind when the drummer, who was studying dental medicine at the time, had a lecture on that particular disease. Dženis, the guitarist, said he remembers it vividly when they came up with it: "That lecture was hilarious for some reason. I remember when Bakir showed up and said we should name our new band like that. It was funny at first, but I don't think you understand how hard it is to find a gig when you're walking around telling people: 'Hey, Syphilis is rocking the club tonight!'".
As the first transition came in place and band members started changing, the band's name was also adapted and changed to MA6 meaning Monday at Six. The inspiration came from a famous Bosnian TV show "Lud, zbunjen, normalan".
"Throughout high school, we had an inside joke about the guy from that particular show. More precisely it was a scene in which he starts smashing his mixing board and screaming MA6! We thought it would play out well in the Balkans since the show is very popular regionally. Besides that, it was also a hilarious moment all of us often looked back on", Dženis remembers.
From ex-YU to punk
As the name and the members of the band changed, so did the genre from ex-YU rock to punk and hardcore. Their focus was mainly on pop, pop-rock, and hardcore but often it was adapted to what they could do and what the singer could deliver so that the audience would enjoy.
Currently, the band is primarily focused on "harder" music such as punk-rock and hardcore. They say it is mostly influenced by their need to create a mosh pit with their gigs and a safe place for people to let their worries and troubles out. Diverse members listen to diverse music, so they decided the band should be like that as well.
Is there a place for such bands in Bosnia and Hercegovina?
Members point out that there is indeed a punk-rock and hardcore scene in the Ex-Yugoslavia and that it is very diverse:
"Slovenia is famous for its indie and jazz, Croatia has more pop and rap just as in Serbia while in Macedonia there is also a little bit of funk. In Bosnia, the well famous rock and pop-rock music mixed with a little bit of rap is still on the rise".
However, they've also noticed that there is a huge problem with promoting and representing young artists in their country. Neighboring countries do it mostly through their public broadcasting stations, which is not the case in Bosnia. The problem partially lies in the mentality of the people because not enough chances are given to young artists who want to perform and build a career in the music industry. A lot of producers, older musicians, and other people that work in the industry are skeptic about the potential of the new generations.
Thankfully, with the arrival of new social media platforms such as TikTok, the scene is growing rapidly and the chances for young musicians to promote themselves and be seen have never been higher.
Gigs, ambitions, and future plans
Due to personal issues within the band, the first gigs that were planned for February 2020 were canceled. After that, the COVID 19 pandemic hit and they found themselves at a dead end once again. However, that did not stop them to continue practicing and planning new gigs once everything gets back to normal.
The band VHS is optimistic and sees far into the future. Now that the pandemic is behind us, new opportunities await. People miss going out, hearing loud and live music, and just having fun in general. With that in their minds, they are now more than ever ready to perform at the upcoming festivals in the region and hopefully further away.
Azra Zulić and Bakir Nuhić
Side column:
The will to progress
Through their gigs and hangouts, newborn bands in Sarajevo such as VHS, bring hope and remind us that music can connect worlds apart. The fact that there is still ambition and a spark that helps them create and play music shows us that young people are not as lethargic as people come to think. It is not about money or where the next gig will be – it is about creativity, positive spirit and the will to progress and bring something new. We have high hopes that such bands will bring Sarajevo back its well-deserved title of "the birthplace of rock and roll".
Cover photo: Photo by Harrison Haines: https://www.pexels.com/photo/photo-of-man-playing-guitar-3536236/
---